Managers
Open up the User or Admin view
Under the tab Meetings, click Temperature Meetings
Click Create Meeting
System Administrators
From the Admin view
Click Meetings
Click Create Meeting



Select which team you'd like to have the meeting with, decide a day, and if you want to create a light or standard meeting.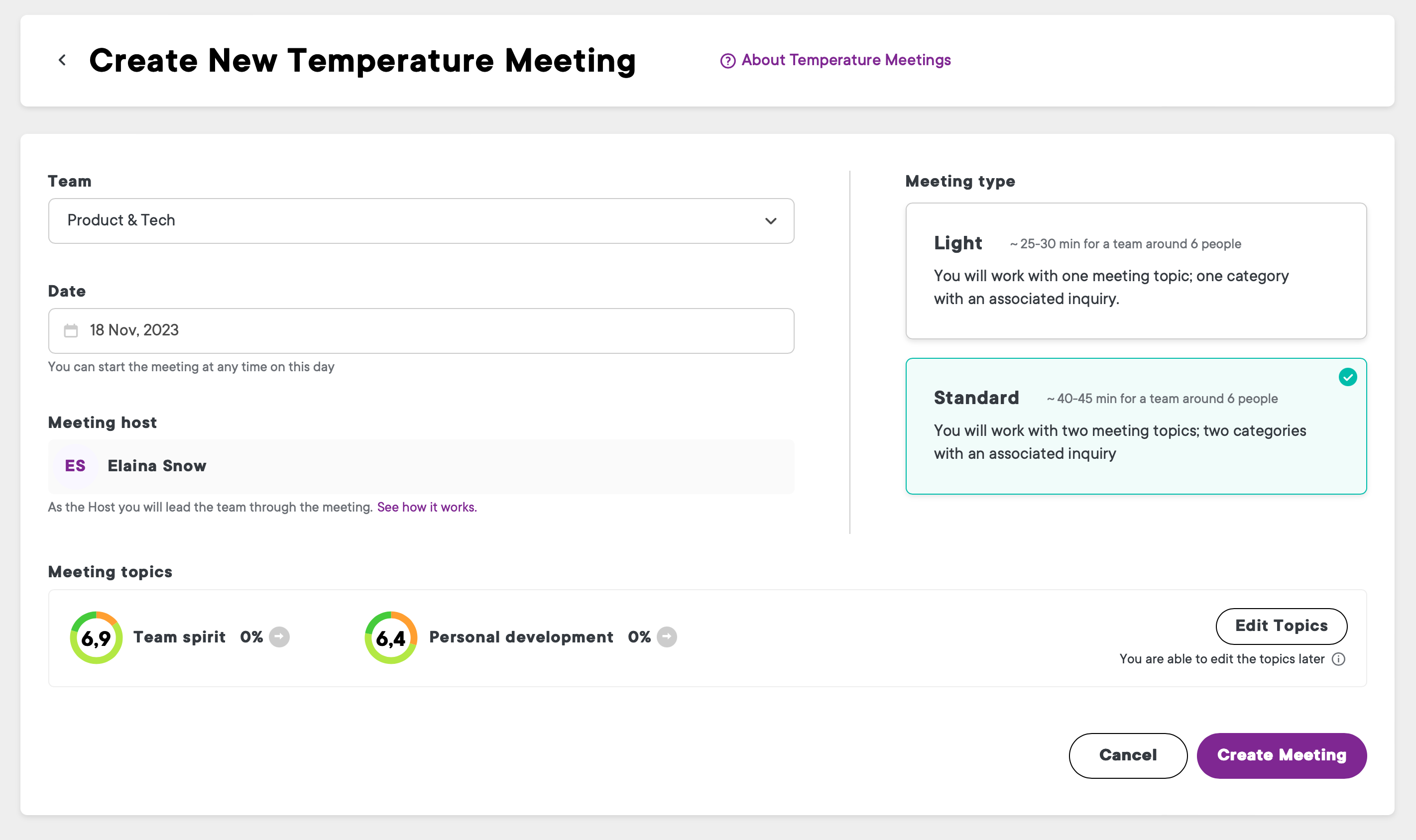 When the meeting is created, it is displayed as an upcoming meeting in all participants' meeting lists in Winningtemp. Remember to book a meeting through your own calendar and include a video link if you plan on running the meeting remotely.



Who can be invited to a temperature meeting?
You can select one group (subgroups not included) or create a custom team that consists of several groups and/or users.


Which groups can be selected?
Managers can select the group/s they are managers for, as well as all underlying groups.

Which individuals can be selected?
You can select individuals from the entire organization. If you intend to select all team members in a group, the group should be selected instead of all users individually.
Edit a custom team to use in a temperature meeting
To edit a custom team, go to:
Go to Meetings
Click Temperature Meetings
Click Create Meeting and locate the team in the team drop-down list
Click on the three dots to the left of the team name and click Edit


A custom team must consist of:
Minimum 2 groups, or
Minimum 3 users, or
A combination of one or several groups and users


What happens if changes are made to a team?
If you change the name of a group, or custom team, in Winningtemp, the name will be updated in all completed meetings.
If you add users to a group or add participants to a custom team, they will see all previous meetings for the team, including the meeting details.
If you remove users from a group or a custom team, they will continue to see the temperature meetings they were invited to.



Custom teams and group temperatures, how does that work?
You can only select a group temperature that all participants in the team have permission to see in their user view. Except in one scenario, if a team consists of one group and one or several specific users, you have the option to use the group's temperature or the "closest" group temperature that everyone in the team has access to. Choose any of these temperatures in the drop-down, Temperature to work with, when creating or editing a custom team.
There is also a setting that controls which temperatures to display to users in the user view called; temperature presentation. This setting affects what group temperature you can use when setting up a temperature meeting for a custom team. Contact your System administrator to address this setting.
If a group has fewer users than the anonymity threshold, the group will use a parent group's temperature instead. If more users are added to the team or if the threshold is lowered, you can start to use the group's own temperature in the meetings instead.