Guided Temperature Meetings is an in-app guided meeting with interactive parts to involve the full team. The meeting is run by the Host with the help of the presenter view in Winningtemp. Users join the meeting in Winnigtemp to participate and give their individual input.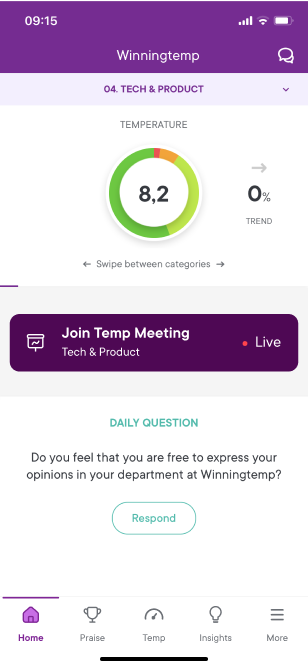 A temperature meeting can be joined either from the mobile- or browser app.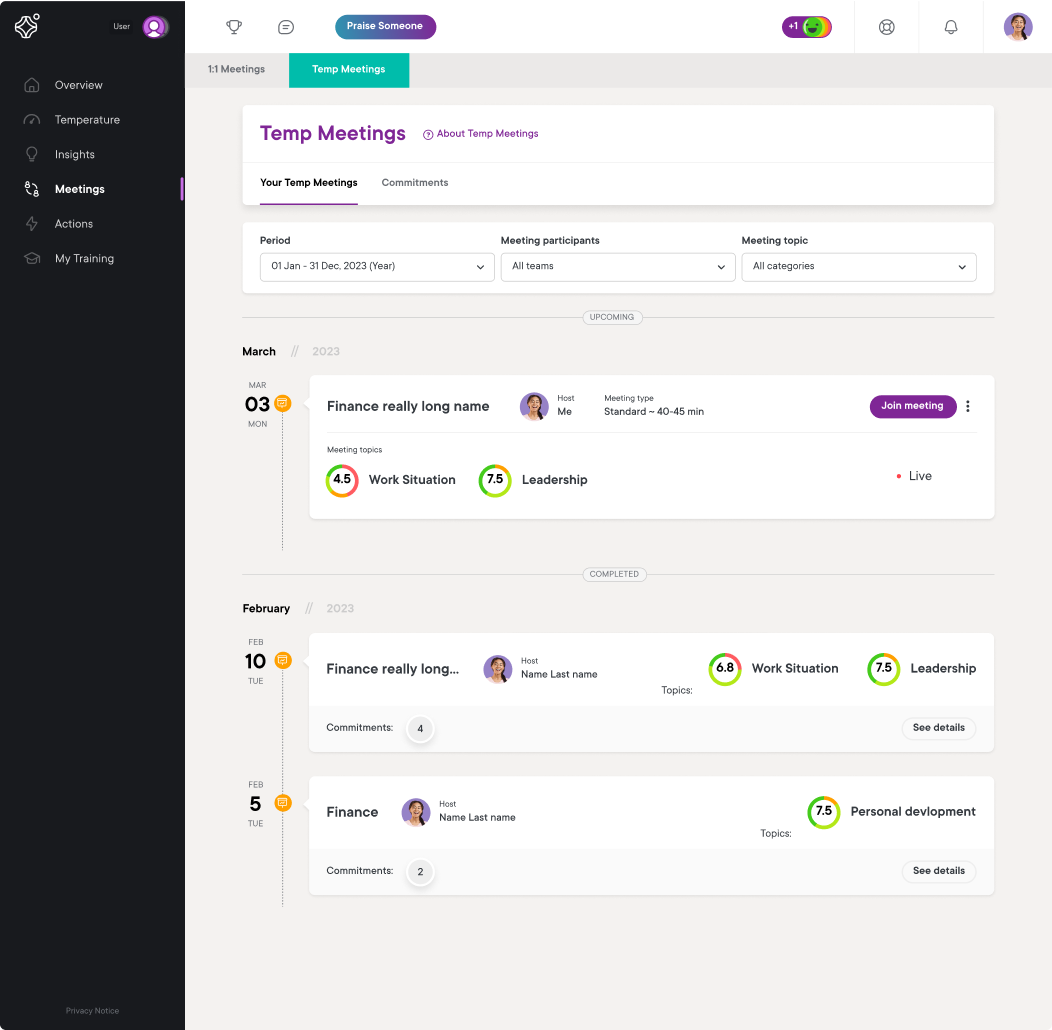 Who is it for?
A Temperature Meeting is for teams to work together in a collaborative process of inquiry by focusing on strengths in order to create a better overall experience and improve engagement.
What do you talk about?
Teams talk about the Temperature category in focus. The discussion is guided by using a set of questions that are designed using the appreciative inquiry framework, to identify and leverage team strengths, successes and positive aspects to create a positive experience.

Why should you have Temperature Meetings in your team?
Temperature meetings inspire teams to work together, adapt to change, and achieve their goals more effectively. They use a strengths-based approach to encourage teams to embrace positivity, collaboration and innovation to enhance team performance.
Commitments - the outcome of the meeting
These are things that have been collaboratively discussed and agreed upon within the team during a Temperature meeting. These could be actions, behavior changes or any promises that the team members make in order to bring about meaningful change. Learn more about Commitments here: How Do You Work With Guided Meetings?.

Follow-up
Each Temperature meeting begins with a follow-up of the commitments and data points from the previous temperature meeting. This is an oportunity to remind yourselves what you agreed on and revise the progress and relevance of the commitment.
FAQ
Who can create a Temperature Meeting?
Only group administrators.
Who can be invited to a Temperature Meeting?
Group administrators can invite either groups or individuals to a temperature meeting.

What groups can be selected?
Group administrators can invite the group/s they are admin for as well as all underlying groups. They can either select a single group or a combination of several groups by creating a custom team.

What individuals can be selected?
Group administrators can invite users in the group/s they are admin for and other group administrators for underlying groups. Individuals are selected by creating a custom team.
How Do You Create a Temperature Meeting?
You follow the steps outlined here: How Do you Create a Temperature Meeting?