Anonymity threshold
Anonymity is crucial for Winningtemp and you can always trust that no one can see how you answered the temperature questions.
The anonymity level is something that the system administrator configured, we recommend having a high anonymity level. If your company configured the anonymity level to 5, it means that the group needs to have a minimum of 5 unique responders before any temperature data is presented in your group.
This means, that if your group has fewer users than the anonymity level, no temperature data will be visible in the group. Instead, your answers will contribute to the total temperature (organisational).
This also applies to the temperature regarding Gender, Age, and Answer per question. You need to have a minimum of 5 men AND 5 women to show temperature.
If you write a comment to a question, your manager and the system administrator can read it, but they can't see who wrote it. Winningtemp has a function that allows managers to answer comments and ask further questions. However, this chat is totally anonymous, and your manager will never see who they are chatting with.


How Winningtemp handles your data
At Winningtemp personal integrity is our top priority. We want our users to feel secure when voicing thoughts and reflections about work. To protect your personal integrity we secure your data in multiple ways, here's what happens behind the scenes:
You respond to the questions sent out to the App or via your mail address
When you hit the send button, your answer/data is encrypted and separated into two different data types
Your personal data is sent to our servers in Germany
Your responses are sent to our servers in Ireland
The owners of these servers are different
When the data is delivered to the different servers, another layer of encryption is added
When, and if, you personally look at your Insights, those are only visible to you and not visible to anyone else within your company
When your manager sees the temperature data, they can only access aggregated team data, and not your personal data
If your team has fewer users than the anonymity threshold (see above) no data will be visible to the manager
When and if you leave your employer, all personal data will be erased.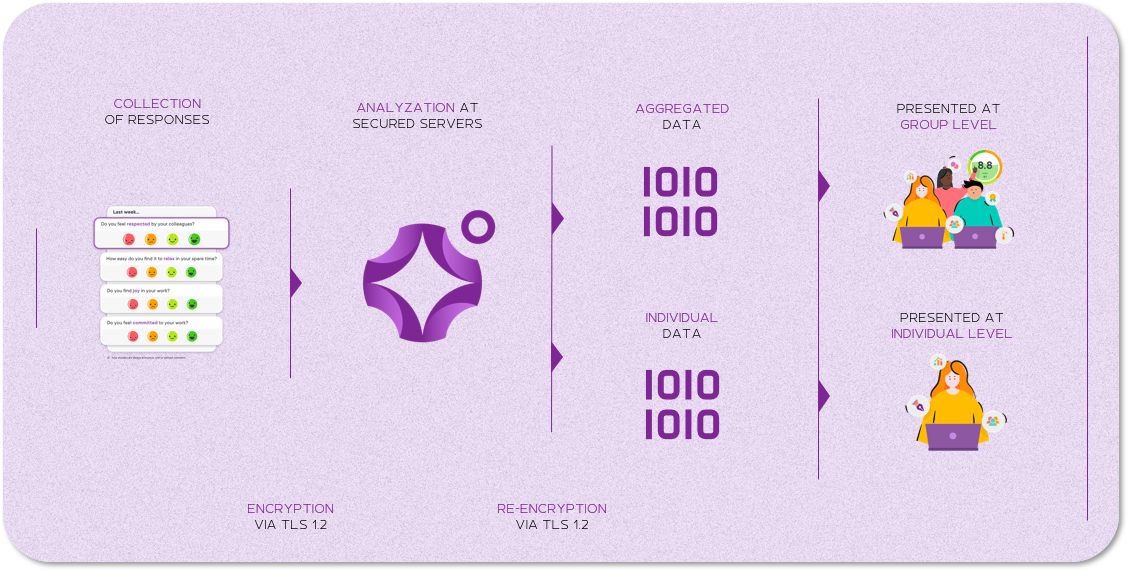 Anonymity in Onboarding or offboarding surveys
To protect user anonymity, we present the onboarding and offboarding results in batches based on the anonymity threshold. In other words, if the anonymity threshold is set to five, we present the temperature in batches of five. Even if the category already displays temperature, you will have to wait until you have five new answers before the new results are visible. All answers in the batch will have the same date to further maintain anonymity.
When can I see the results on a group level?
When the anonymity threshold is met within the same group. In this example, if five users in the same group answered the survey, you can see the results on a group level.
Will the results be visible at an organisational level?
If the anonymity threshold is met, but with users in different groups, the results will be visible on an organisational level instead. The same logic applies here, the results are presented in batches.



Read more
What can my manager view in Winningtemp?
What is the Conversation feature?
Anonymisation of comments, how does it work?
Changelog
2023-01-24 - Added "How Winningtemp handles your data" section
2021-10-08 - Added read more section