Here at Winningtemp, we believe that everyone should enjoy a bit of positive feedback once in a while. The Praise feature helps with that and is a fun way to encourage positive feedback in your company, and at the same time helps increase team spirit.


What's the Praise feature?
How to activate the Praise feature
The Praise feature is usually activated by default, but if it's not, follow these steps to activate it:
Go to the Admin view
Click Settings
Under System, click Praise
Activate the praise feature by clicking Use praise function.



Activate and configure the live feed
If you want to display all the praises in the live feed on the Overview page, click praise information in live feed.
Here you can decide if you want to show all the information included in the praise or if you want to exclude the comments (explanation). You can also deactivate praises from the live feed entirely.




Make the live feed even more engaging by enabling agreeing and comments in the live feed. By agreeing (liking the praise) and adding the ability to comment on each other's praise, you create a fun and interactive environment in the live feed.


Add your own company values as a Praise template
Most companies have their own values and to make the praise feature more personalized you can add those values as a template to the Praise function.
Go to the Admin view
Click Settings
Click Templates
Click Praise
Under basic values, click Create values




Here, you can create your own templates that users can pick from the next time they send praise. Customize the praise by either adding a picture or choosing from a variety of colours.
Click Save when you are done with the new template.

Pro-Tip
Do you want to exclude any of the ready-made templates from the Praise feature? No worries, just use the above example to click your way to the templates and deselect the one you want to exclude.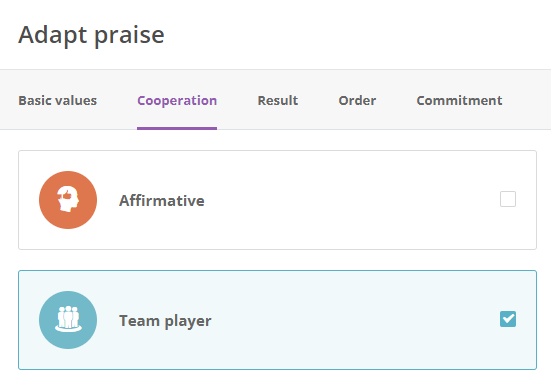 Read more

Changelog:
2021-10-04 - Document created