Unsure what a Milestone is?
How to create a Milestone?
Go to the Admin view and click My Co-workers.
Click on the icon shaped like a person.
Select the "Search entire company" box and search for the user. Select the user.
Click the button, Create Milestone.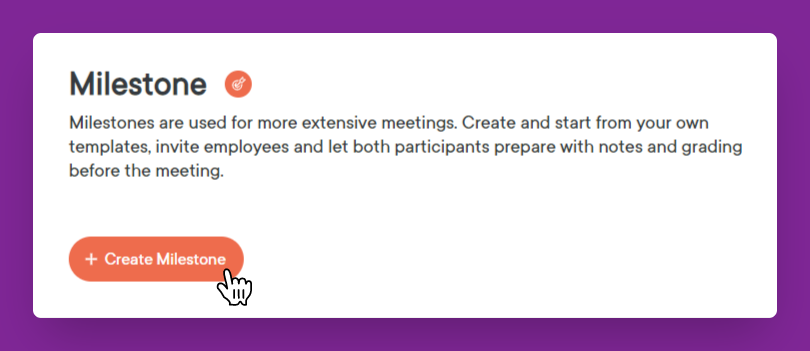 Configure the Milestone
Choose an existing template for the Milestone, or create a new one. If your company uses several templates, select the template you need for this meeting.
Edit the name of the milestone (optional).
Decide if you'd like to send an ICS (Outlook calendar invite) to the co-worker. Note: the co-worker needs to sign in to Winningtemp to accept the invite.
With Allow new date and time, the co-worker can suggest a new date or time for the meeting. Note: if you don't select the button, you and the co-worker have to manually find a new time (not using Winningtemp).
Select a date and time.
Write a message (optional).
Click Create.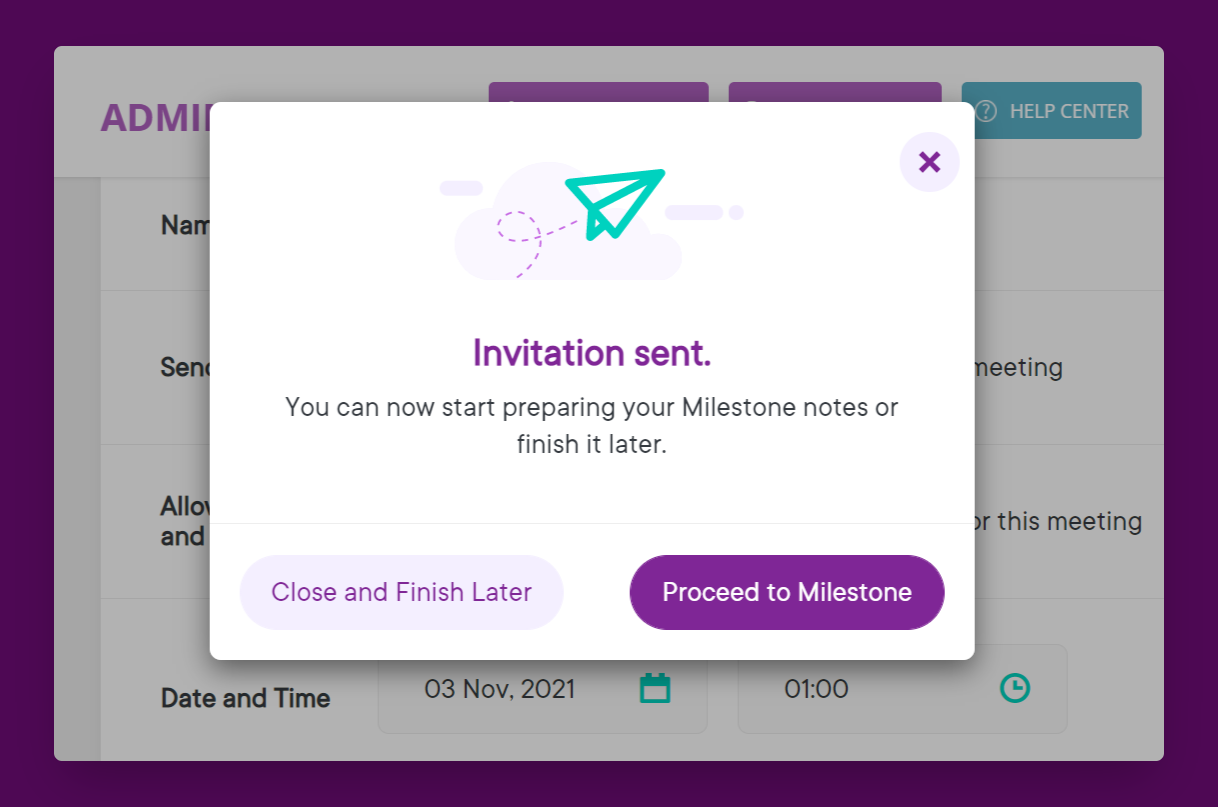 Prepare the Milestone meeting
Click Proceed to Milestone to start the preparations. If you want to prepare an already existing Milestone, click Edit notes which you find next to the Milestone. Start by selecting the preferred way to contact the co-worker and if you want to attach any files to use during the conversations.


Before the meeting starts, you can prepare the Milestone by adding notes and grade the co-worker in categories (optional). When you are done with your preparations, click Save as draft. The notes will not be visible to the co-worker until you click Publish notes.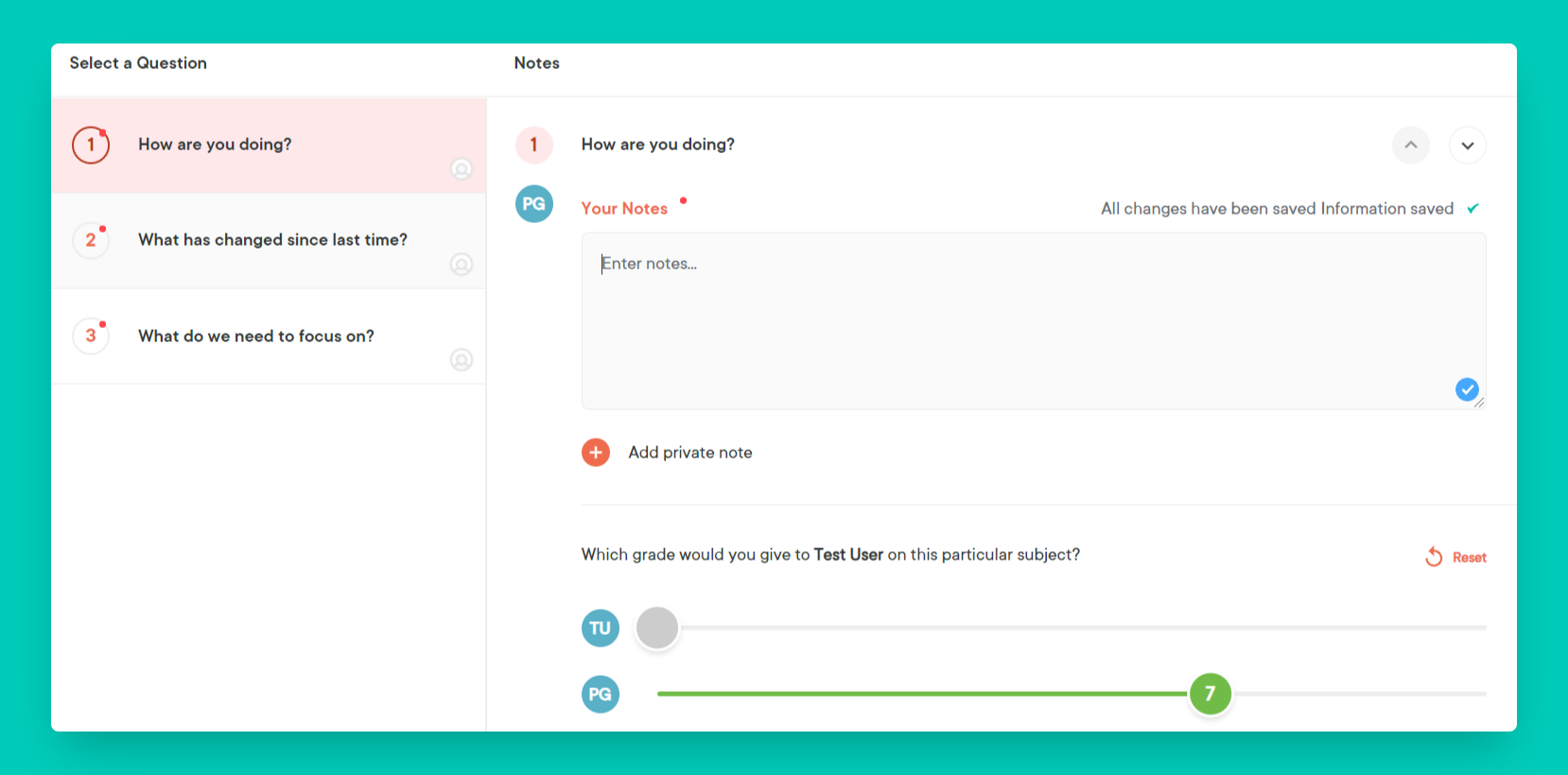 Use the milestone as a template for your conversation with the co-worker, if you use your notes, grading scales, and file attachments you have a solid ground to start the performance review. Document the conversation in the Milestone notes and once the review is done, click Publish notes. After publishing, the notes will be visible to both the co-worker and the manager (and to managers higher in the organization hierarchy).



The verification process
If you want the users to verify the milestone, and the notes in it, before it's finalized, you can turn on "Allow users to verify milestone before completion" toggle in Adminview -> Settings -> Follow-ups.
With verification turned on:
After completion, the milestone is labelled "Not verified" before the user verifies it. The user receives an email with instructions to look through and a button to verify the milestone. A notification is also sent out in Winningtemp.
With verification turned off:
The milestone is labelled "verified" directly after completion, without the possibility of feedback from the employee.
Pro-tip
If you're a system administrator, you can also create templates in Settings -> Templates -> Milestones -> Create Milestone. Here you can create templates that your colleagues can use for their Milestones.



Read more
Changelog
2022-08-25 - Added new section - "The verification process"
2021-12-03 - Added Pro-tip
2021-11-02 - Article created