Creating a good onboarding experience is no longer a good-to-have, it's rather a necessity. It constitutes making the new employees feel welcome and comfortable in their new surroundings, assuring them that they made a good decision. It also minimizes the time it takes to become productive members of their new workgroup.

The right onboarding process can generate an exponential increase in the productivity of a team. Over time, this translates to job satisfaction, higher performance, lower stress, and organizational commitment.

Why should we use an onboarding survey?
To understand what the employee thinks about the company.
Gauge if the new employee understands their role and is well-equipped to fulfil their primary responsibility.
Understand the alignment between what the individual's expectations are and what are the organization's expectations of the employee.
It is also crucial for improving the retention rate for the company and the new employee's productivity and satisfaction.
The employee onboarding survey is also one of the most powerful tools to collect feedback on the onboarding process and to fill in gaps if any.
An onboarding survey is bidirectional. Besides understanding the new hire's feedback, the survey also tells the new hires what the company thinks is important.



The story behind the questions
If you're new at the company, it can be difficult to answer the same questions as everyone else, due to the fact that you are new. To help you in the onboarding process, we've created brand-new questionnaires for new employees. Our new onboarding questions have been carefully researched and selected in accordance with current standards. Furthermore, we use questions that have been tested in HR environments and that have a proven track record of giving the most value to you as a manager.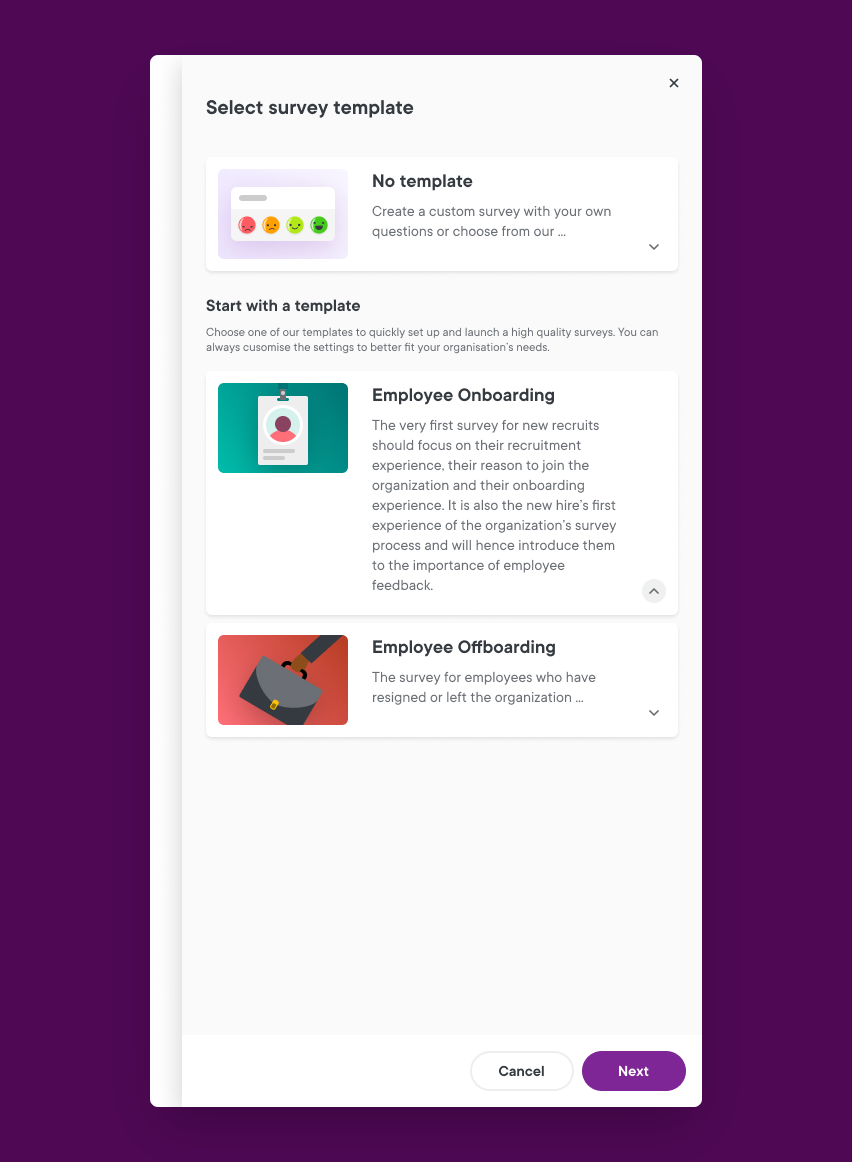 How does it work?
We've made it super easy for you, all you need to do is to create a Custom survey and pick a template. With the use of smart segments, you can specify recipients that have worked less than one month. Voilà, our survey engine will automatically send out surveys to all new employees.

How can I get access?
Our onboarding and offboarding templates are available With the Expand package. If you are curious and would like to know more, contact your Customer Success Manager for more information.
Read more
What is an Offboarding survey?
Changelog
2021-12-13 - Article created