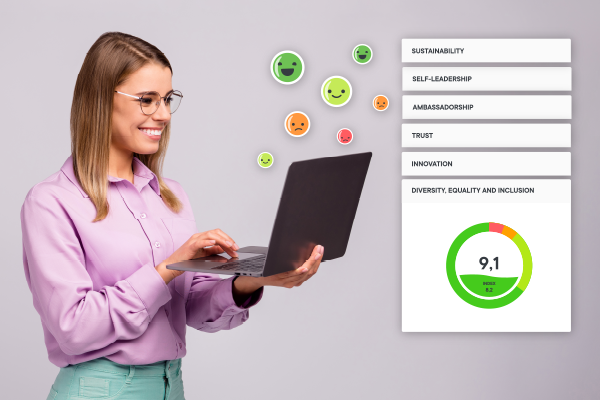 Employee engagement technology driven by AI
Winningtemp's powerful AI uses machine learning to apply the science behind successful organisations. Our unique platform analyses data, find trends and provides suggestions for actions to enhance employee wellbeing and engagement.
For every response that comes in from employees, our AI gets faster and provides even more accurate insights and predictions.
Guided by this data analysis, organisations using Winningtemp (on average):
Reduce staff turnover by 30%

Reduce negative stress by 26%

Increase job satisfaction by 21%


What are the supplemental categories?
The supplemental categories can be used together with the standard categories to get a more complete picture of employee experience, and are a complement to Winningtemp's existing question batteries. The supplemental categories are developed in collaboration with the University of Gothenburg and are selected based on market trends and feedback from our customers.
The 6 new supplemental categories are:
Sustainability (social, environmental, and economic)

Diversity, equality, and inclusion

Self-leadership

Ambassadorship

Trust

Innovation
1. Sustainability
Corresponding concepts in the research literature:
Sustainability, environmental sustainability, social sustainability, economic sustainability, triple bottom line, sustainable development, open sustainability, corporate social responsibility (CSR), environmental social governance (ESG), environmental in-role behaviours (EIRB), sustainable leadership.​
Definition
Sustainability does not have a single definition, but is rather a collective term for different types of sustainability. A useful collective term is triple bottom line (TBL):
Social sustainability: human rights, gender equality, inclusion.
Ecological sustainability: environmental and climate impact.
Economic sustainability: long-term economic growth without adversely impacting social or environmental aspects of society.
Example question:
Do you feel that your company cares about its employees' quality of life?
2. Diversity, Equality and Inclusion
How equal and inclusive the employees perceive the company to be.
Example question: Does your company make an effort to recruit a diverse workforce, in terms of ethnicity, gender, age, and sexual orientation?
3. Self-leadership
Corresponding concepts in the research literature
Self leadership, personal initiative
Definition
Self-leadership is described as a collection of mental strategies that leads an individual to specific behaviours and aims to increase value for an organisation and increase individual effectiveness and wellbeing (Houghton et al. 2013).
A closely related concept to Self-Leadership is the concept
Personal Initiative, which Frese & Fay (2001) divide into the following aspects: (1) Self-Starting, (2) Proactive, and (3) Persistent.
To create these questions, three different conceptualisations of self-leadership were used:
Self-leadership
Personal initiative
Voice behavior
Example question: When a problem arises at work, are you active in trying to solve it?
4. Ambassadorship
Corresponding concepts in the research literature
Organizational citizenship behaviours, organizational commitment, organizational ambassadorship, organizational advocacy, loyalty
Definition
Ambassadorship is not its own clearly delineated concept when it comes to employees' attitudes and behaviors, but is included in several conceptualisations / models that deal with employee engagement. The first of these conceptualizations is called Organisational Citizenship Behaviour (OCB). This measures the individual's participation in the organisation by assessing whether the individual is a helpful citizen inwardly and a loyal ambassador outwardly (ambassadorship is called in OCB for loyalty and sometimes loyal boosterism). The second conceptualisation of commitment is called organisational commitment, which measures commitment in the form of willingness to perform as well as ambassadorship.
Sample question: Do you think that your company's values are similar to your own?
5. Trust
Corresponding concepts in the research literature
Trust, trustfulness
A number of conceptualisations have been developed over the years, which is a testament to the fact that the concept of trust has been difficult to define (Dienz & Den Hartog, 2006). Trust can be described as a psychological condition that involves the intention to accept vulnerability (for example, relinquishing power and influence) based on positive expectations of others' intentions or behaviours. Based on these contexts, trust is explained as something interpersonal, as well as something that can be experienced between people and organisations. In sum, the definitions of trust revolve around the concepts below, which can be seen as sub-dimensions of the concept of trust:
Conscientiousness: You show good motives, kindness and a genuine care for other people.
Integrity: You show honesty, transparency, and a desire for fair treatment.
Competence: How do you tend to estimate the competence of others?
Predictability: There is a consistency and regularity to your behaviours.
Openness: Your desire to listen and engage in dialogue.
Example question: Do you feel confident that management treats you fairly?
6. Innovation
Corresponding concepts in the research literature
Innovation, innovation readiness, dynamic capabilities
Definition
Innovation has several definitions. The most common is the OECD definition: innovation is the ability to develop or improve new products (goods / services) (product / service innovation) that are relevant to a market, but also the ability to change internal processes and organisational methods (process- and organisational innovation). In the development of the question battery, the following three dimensions have been used:

Structure. The way you organise the innovation work. Innovation processes. Working methods. Formalisation and centralisation. Vision and strategy.

Culture. The rulebook that determines which behaviors are accepted.

Resources. Access to time, financing, skills, etc.
Example question: Does your company culture promote experimentation and risk-taking?
In which languages are the questions available?
The questions are available in all of Winningtemp's current question languages.


Do the supplemental questions generate insights and trends?
Yes, just like our standard categories, supplemental questions generate both insights and trends.


Which package includes the supplemental questions?
The supplemental questions are included in our Pro package, and can also be purchased as a separate add-on.


I'm a Pro customer. Where do I activate the optional questions?
Note: Only System administrators can access this view. From the admin view, go to Survey> Standard Surveys> click the three dots next to the Survey you want to modify> click Edit> click Questions categories> click Supplemental.


Interested in these categories? Explore our Pro package
Discover a whole new level of proactive leadership with the Pro package, where you have access to all 15 categories, and the associated questions.


As a Pro user, you also get access to:
Natural Language Processing — AI technology analyses employees' comments to highlight the topics that are currently most discussed.
Smart Predictions — stay up to date to see if your employees are experiencing negative stress or are at risk of leaving your organisation
Action plans — boost accountability and productivity with clear action plans
Contact your Customer Success Manager for more information.