Note: Onboarding surveys are only available for System administrators using our Expand package. Reach out to your Customer Success Manager if you'd like to know more about the Expand package.

We built or Onboarding survey with ease in mind. That means, pick a template, and we will automatically help you out with both ready-made questions and recommended settings. When selecting the onboarding survey, the system will autopopulate the fields with our recommended settings (see table below) and add our researched-based onboarding questions.
Set up an onboarding survey
In the Admin view, click Survey
Go to Custom Survey and click Create survey
In the slide-out, select Employee Onboarding
Click Next.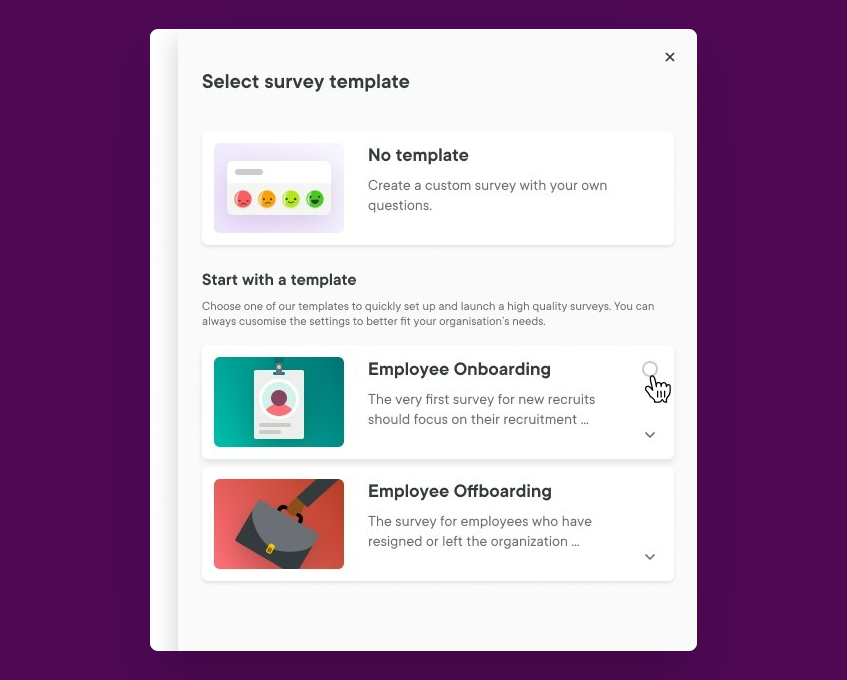 Our recommended settings
| | |
| --- | --- |
| Setting | Recommendation |
| Survey name | Onboarding-survey |
| Survey type | Interval |
| Frequency | Weekly |
| Weekday | Fridays |
| Start date | Next workday |
| End date | None |
| Only send the survey once per recipient | Disabled |
| Our onboarding questions | All available questions |
When you set up the survey with our recommended settings, all new users will receive an onboarding survey with five questions per week. That means that they will receive 3 surveys throughout the one-month onboarding period.


If you want to use our recommended settings, click through the steps and launch the survey.
If you want to use custom settings for your onboarding survey
How do I create a custom survey?
Exclude new hires from the standard mailing
New employees could find it difficult to answer the Standard survey, as they might not know enough about their work situation just yet. You can choose to exclude new hires from the Standard survey during a set time period.


Go to the Admin view
Click Survey and then Standard survey
If you use more than one standard survey (Pro customer) start by clicking on the survey you want to delay
Enable the "Delay mailing for new employees" toggle
Select a time frame for how long new employees should be excluded from the standard mailing
Click Save changes.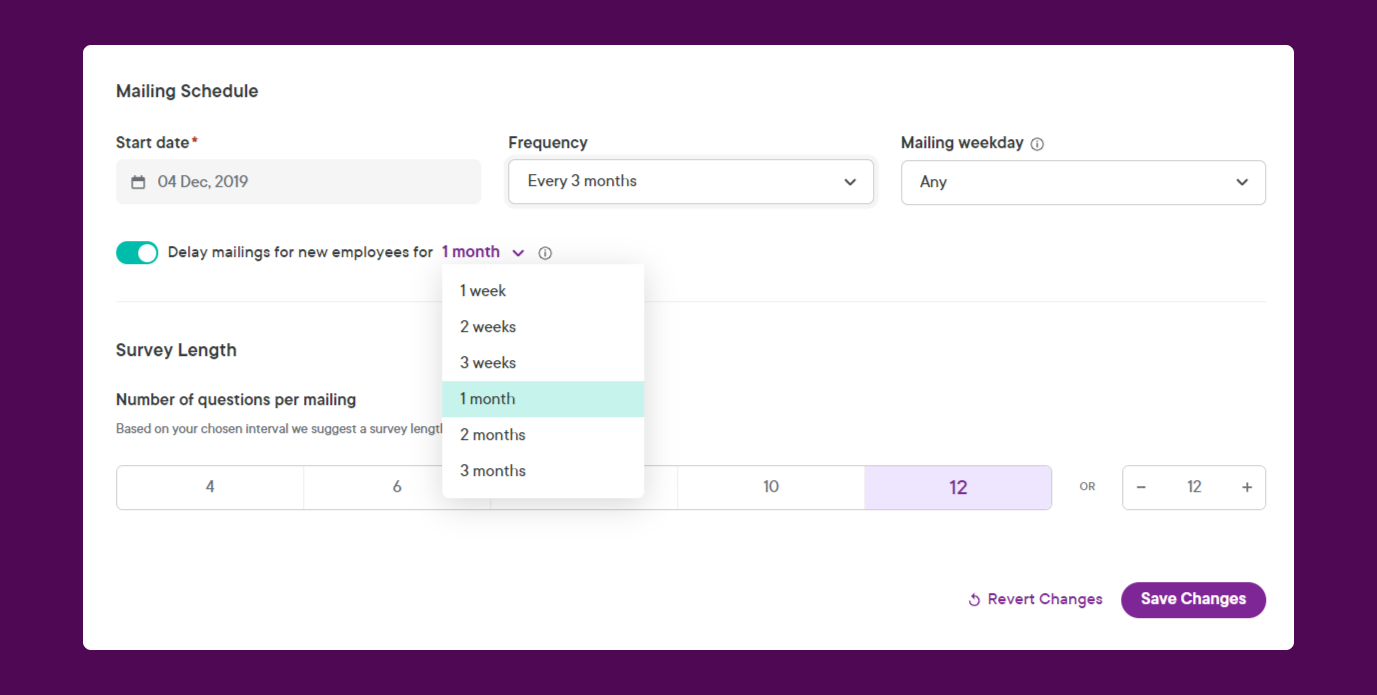 Where can I see the temperature?
Once you've set up the survey, remember to add it to the overview page to be able to see the results. Follow: Change content in the Overview
What about anonymity?
Read more
How do I create a custom survey?